Thought of the Day
Courtesy of XKCD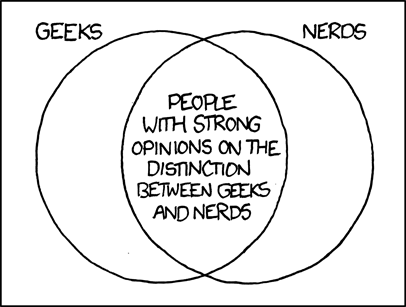 (Hover over pic for original title text)

My definition?: A nerd is a well-rounded geek. A geek is someone versed in a particular field or set of related fields.

Hence, I was always a band geek, a lit geek, a math geek, an internet geek, a grammar geek, a chemistry geek, a biology geek, and I always ended up at a table alone because of it, being that I never shut up about anything because there wasn't a topic I could stay on for long or that would stump me, making me Queen Nerd, as my mother called me, or "The Biggest Purple One In The Box" as my sister called me, or "The Annoying One" as everyone else called me.

I'm careful to distinguish between Geek and Nerd. Geeks don't know as much, but are invaluable in furthering my own knowledge.
Read More